A1/GX Monitor Troubleshooting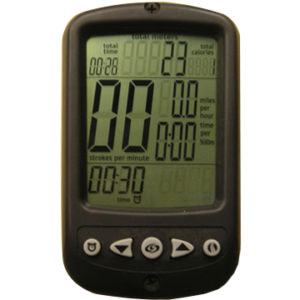 The WaterRower A1/GX Monitor measures the speed of the paddle using an infrared detector mounted on the underside of the top deck and a castellated Sensor Pickup mounted on the inner clutch bush.  The motion of the paddle revolved the sensor disk which in turn triggers the infrared detector
The batteries are positioned behind the monitor; use a Philips screw driver to unscrew the top and bottom screws and gently lift the monitor away from the footboard to access the battery pack.
Check the alignment of the sensor, it may have come out of position in the groove underneath the Top Deck and it needs to be gently put back into position.
Check the connection of the sensor and monitor.
Check the magnets in the sensor disk. If one is missing you will need to replace the magnet. Please contact your nearest WaterRower office for magnet replacements

There could be a problem with the green Tacho Belt. Where the Tacho Belt is joined, there may be a lump, this could be causing the problem. It also could be the Tacho Clutch Pulley. There have been problems with nicks in the pulley, causing noises. Ask customer to inspect the area, proceed accordingly.